Happy 10th anniversary to The Elder Scrolls V: Skyrim! Brought together through their love of the video game series, our friends Glorimar and Rafael wanted to celebrate their relationship with a unique Elder Scrolls themed custom wedding band. Takayas Custom Jewelry created a stunning ring for Rafael inspired by the legendary Dragonborn—with special Oblivion themed details, too!
Forming an eye-catching centerpiece, mirror images of the signature helmet worn by the Dragonborn in Skyrim's game trailer embellish the band's shoulders. The helmets' horns curl around glittering blue sapphire accent stones, bright white gold metalwork and vivid blue gems making a bold contrast against the black rhodium plated band.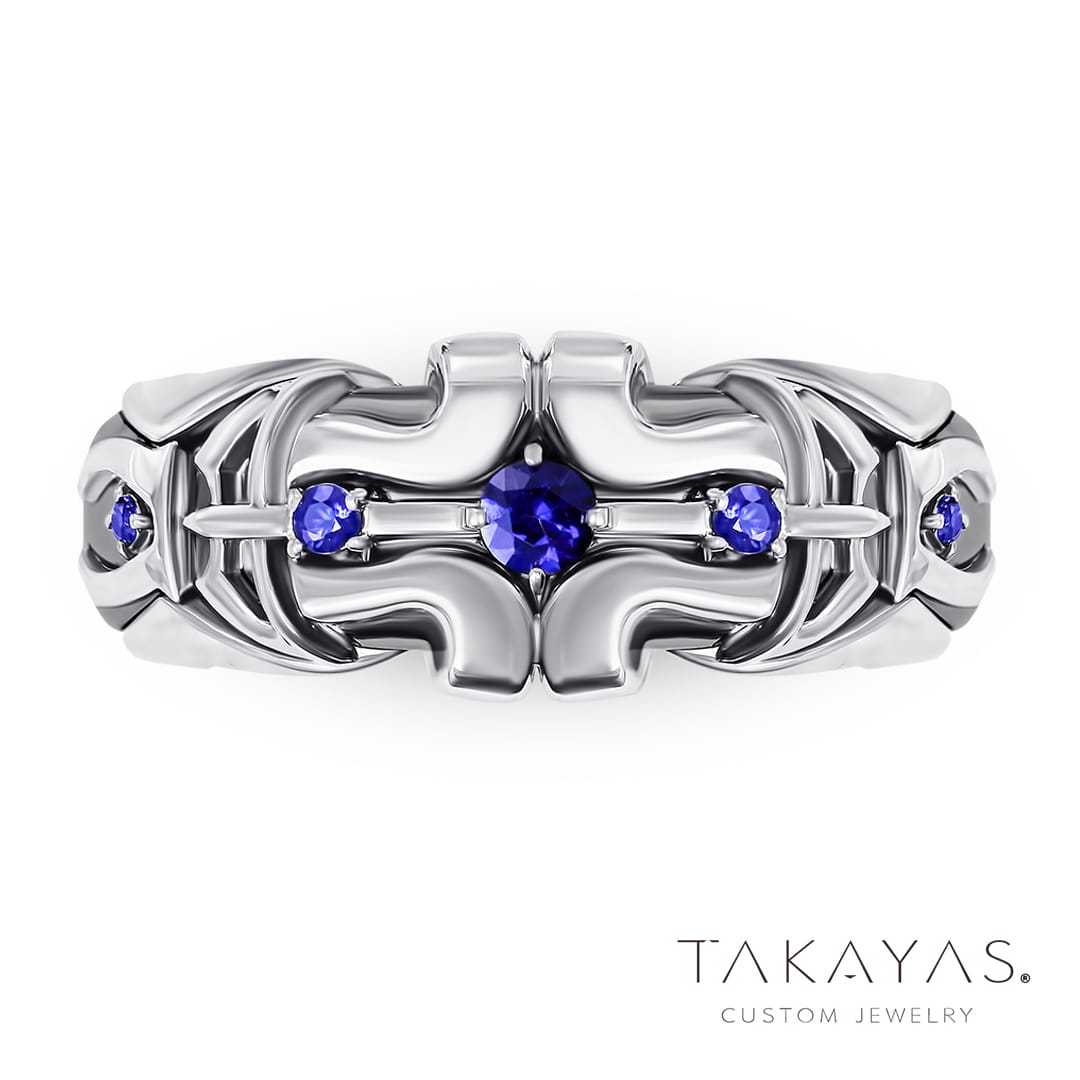 Glorimar and Rafael first bonded over The Elder Scrolls IV: Oblivion. Sapphire-studded Daedric letter "O"s, Oblivion's iconic logo, rest below the Dragonborn's helmets. The dragon symbol of the Imperial Legion represents Skyrim's own logo, trailing along the ring's undergallery and spreading its wings wide. Each wing wraps sleekly around the band, elegantly framing the Oblivion logos.
"The ring looks exquisite!" Glorimar exclaimed when the spectacular jewelry piece she created for Rafael arrived home. "The colors look even better than in the design renders."
Thank you, Glorimar and Rafael, for inviting us to craft an amazing custom wedding band inspired by the game series that brought you together. As we commemorate Skyrim's anniversary—and wait with baited breath for news on The Elder Scrolls VI—we hope your adventures in Tamriel will continue for many more years to come!
Are you ready to begin your custom journey? Visit our Options page to begin crafting, or visit our Inquire page to get in touch with Takayas.