Earlier this year Takayas Custom Jewelry received a request to craft a custom Princess Mononoke inspired ring from our friend, D. This ring inspired by the resilient warrior-princess, San, would be an endearing anniversary gift to K, his dear wife.
Exuding strength and love, the design of D and K's special custom ring features deep-colored garnet stones that shine with a passionate red color. They embellish and bring to life the admirable character of the mighty wolf princess!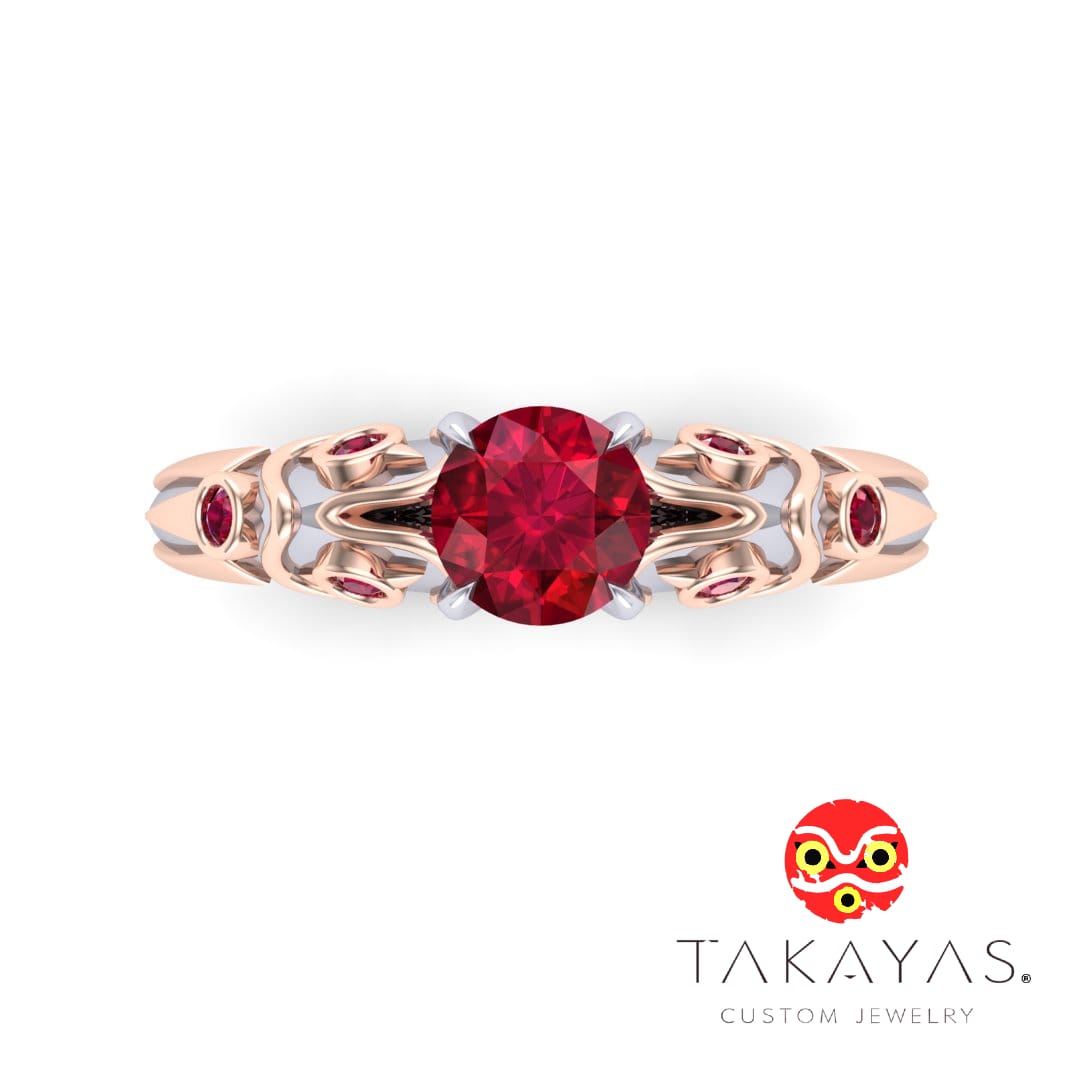 Their glowing garnet centerpiece is embraced in a 4-prong fang-like setting of shining white gold, reminiscent of San's toothed necklace. Sweet rosy accents resembling her notable features – from the crimson mask she adorns to the scarlet markings upon her face – decorate the shoulders of the ring, further embellished by small yet strong garnet accent stones. Within the ring is a secret weapon, Takayas carefully carved the wolf girl's keen dagger into the under gallery of this unique band!
"This work is beyond stunning. It is absolutely beautiful and more than I could have imagined. Absolutely wonderful!" Upon seeing the design Takayas had come up with for him, D reciprocated with compliments and gratitude.
Following up with them after their ring was delivered, K provided us with her own kind words in a lovely testimonial:
"When my husband and I originally got married, we both got tattoos in place of wedding rings. I didn't think that there could be anything more personal or comfortable than a promise made in ink. The ring my husband presented me from Takayas really challenges that assumption. The design is subtle and beautiful, and even more than that, it is full of meaning. I am so amazed at the way Takayas was able to take the concept of Princess Mononoke and San, a character that is important to me, and translate it into a ring that I am proud to wear every day. Takayas even put an engraving of San's daggers on the inside of the ring – a little secret that makes me feel strong and confident, and a sign of my husband's love and belief in me that I can always keep pressed to my skin. I cannot imagine a more lovely, comfortable, unique ring. Thank you, Takayas."
Thank you, D and K, we absolutely enjoyed crafting your meaningful custom ring. We hope you both are showered with an abundance of happiness and love for years to come!
Are you ready to begin your custom journey? Visit our Options page to begin crafting, or visit our Inquire page to get in touch with Takayas.