Last fall, our friend honored Takayas by commissioning a bespoke engagement ring for his partner based on their love of the dragons Hraesvelgr from Final Fantasy XIV and Smaug from The Hobbit.  As symbols of strength, resolve, fortune and prosperity, we thought dragons were a perfect motif for a ring to represent the commitment of marriage and devotion to a beloved partner.
The virtuous Hraesvelgr and mighty Smaug flank the center of the ring, protecting a prodigious oval-cut emerald center stone as stalwart guardians. With this design, Takayas extended both dragons' brilliant horns to each side profile of the ring, which is also adorned with a beautiful emerald accent stone.
While Takayas wanted to capture the striking grandeur of these two incredible dragons, he was mindful of the idea of an elegant engagement ring.  He adorned the band with graduated emerald accent stones, also reminiscent of Smaug's love of treasure, and Hraesvelgr's faithfulness.
After our friend proposed over the holidays, we were delighted to receive these kind words: "Working with Takayas was a delight. They are very informative with you every step of the way. They will meet your needs. The ring came out beautifully. I found their pricing to be fair considering it is a fully customized engagement ring. I recommend them as they do fantastic work."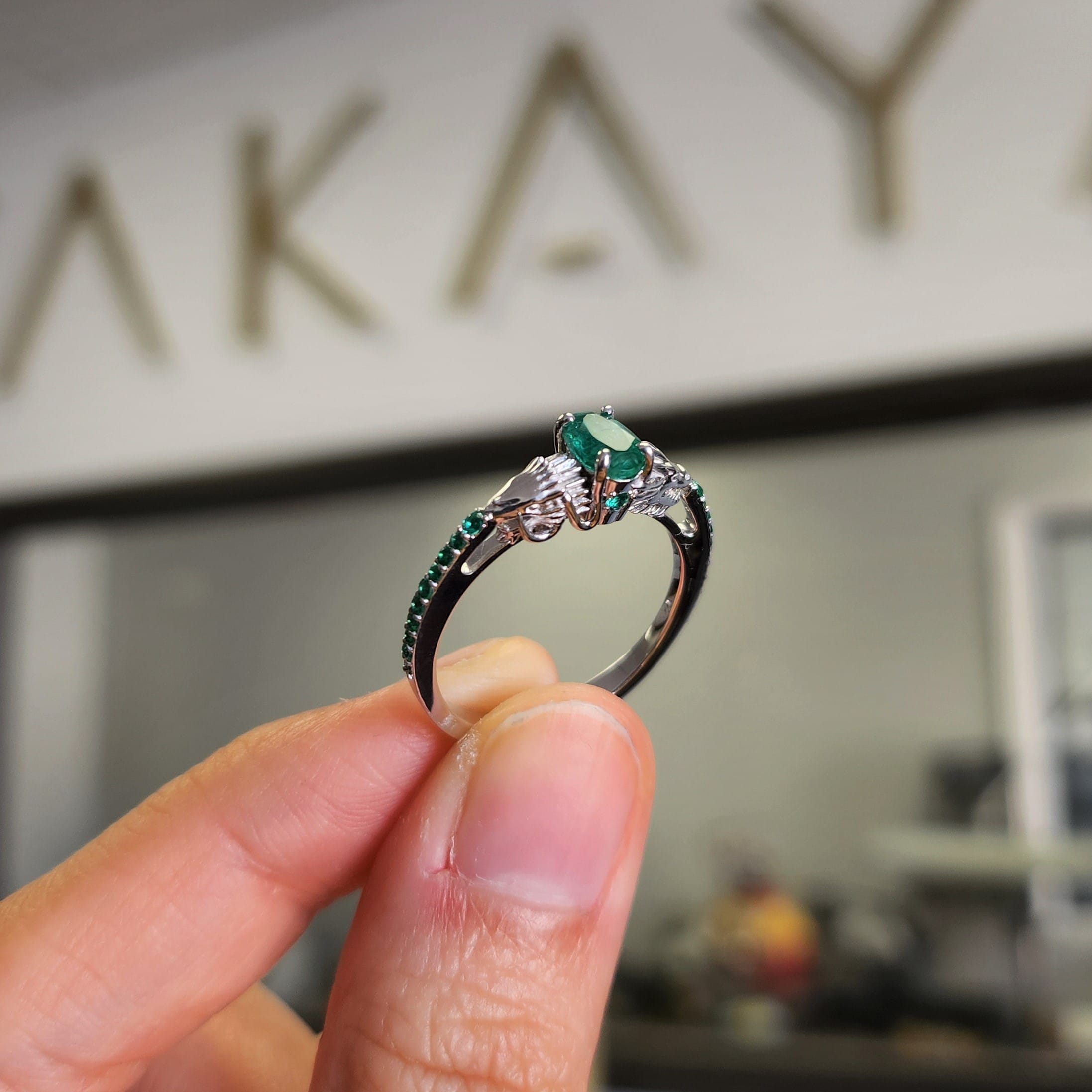 To our friend, it was our profound pleasure to craft your truly spectacular one-of-a-kind engagement ring!  May you and your partner enjoy a marriage as strong as these two mighty dragons and a new life together full of balance and harmony symbolized by the emeralds in your ring.
Are you ready to begin your custom journey? Visit our Options page to begin crafting, or visit our Inquire page to get in touch with Takayas.