Final Fantasy Black & White Mage inspired wedding rings by Takayas, with Ben and Cassie's custom wedding invitation logo in the background
Final Fantasy has played such a large role in Cassie and Ben's relationship that the beloved game was not only part of their engagement but incorporated into their wedding as well! Cassie told us she had been searching for a wedding band to compliment her nearly 2.00 ct Tiffany style diamond solitaire engagement ring (a family heirloom that had been Ben's great-grandmother's ring) but hadn't been able to find any conventional styles that were quite what she wanted. When she remembered a custom Final Fantasy inspired design by Takayas that she'd seen on Facebook, she decided to contact us about creating her special rings.
As for inspiration, Cassie was clear on that from the beginning:
"Our thing has always been the classic Black Mage and White Mage from the Final Fantasy series: the original avatars. I cross stitched them on shoes for him as a gift… We dressed up for Halloween one year as such… they're our wedding cake toppers… He even proposed to me while playing FFXIV (and of course we were playing those characters) but, we'd obviously want to do that in a way that is classy and wouldn't have to be super obvious (which Takayas is such a pro at!)"
She also told us that, in general, she preferred the crown/v-style wedding ring silhouette, but "not too blingy", and Ben liked some channel-set black diamond designs he had seen, which gave Takayas a good idea of their preferred style direction.
FFXIV Black & White Mage staffs, used as inspiration for custom Final Fantasy wedding rings by Takayas
Takayas used the White Mage's signature staff to symbolize Cassie's character, creating a delicate crown-style ring with a small white accent diamond that would complement her classic heirloom engagement ring without overpowering it. As requested, this White Mage wedding ring also looks lovely when worn alone.
The Black Mage's staff (Stardust Rod) offered nice clean design elements that Takayas felt complemented the design of Cassie's ring while representing the quiet strength of the Black Mage. So, for Ben's ring, Takayas referenced the sharp v-shaped curves of the Stardust Rod, also including the symbol from the Black Mage's eye patch to balance out the softer design elements, finishing the ring with a gently curving line of channel-set black diamonds. Also, since Cassie told us Ben is a huge Batman fan as well, Takayas added a hidden Batman symbol inside the groom's ring.
CAD rendering of White Mage Final Fantasy wedding ring designed by Takayas – top view
CAD rendering of White Mage Final Fantasy wedding ring designed by Takayas – perspective view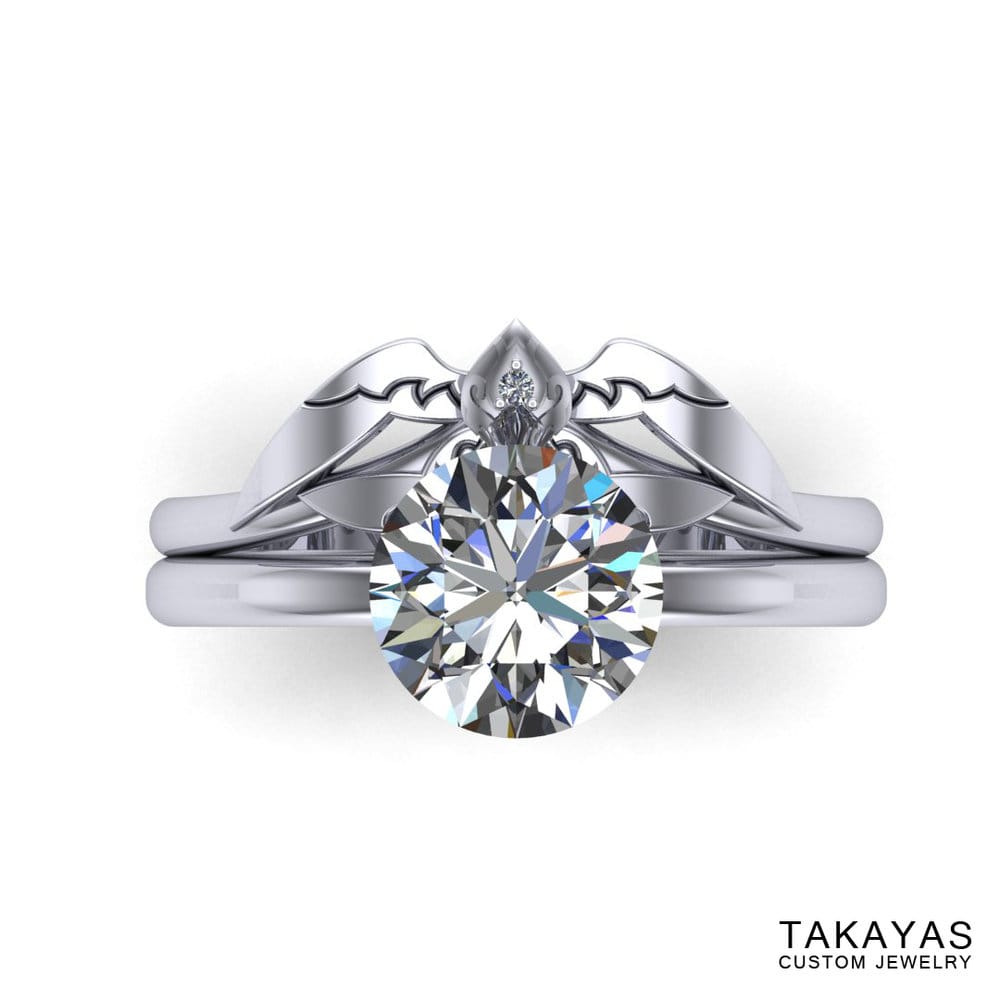 Final-Fantasy-Wedding-Rings-White-Mage-by-Takayas-CAD-rendering-top-view-with-engagment-ring
CAD rendering of Black Mage Final Fantasy wedding ring designed by Takayas – top view
CAD rendering of Black Mage Final Fantasy wedding ring designed by Takayas – perspective view
CAD rendering of Black Mage Final Fantasy wedding ring designed by Takayas – inside view showing hidden Batman symbol
After the wedding, we were excited to get an update on the big day from Cassie, along with wedding photos! She also provided a great back-story for us to share with you here on our blog. I'll let Cassie take over from here:
"Things are wonderful… the wedding day was amazing and we are enjoying wearing our rings every day!!

Ben and I have known each other for 13 years and almost a decade of that we were just friends. We are both huge nerds and the Final Fantasy series of games was always one of our favorites. We would geek out over all of them together… checking in with each other as new games were released and argue over our favorites.

When we started dating, I can't remember how exactly, but we decided my spirit animal was a white mage and his a black mage. We started playing FFXIV a year or so after we started dating and in Feb of 2016, during an in game Valentine's event, he got down on one knee in game.

I remember, sitting there, eating leftover Indian food and saying "awww that's sweet." and then suddenly he was behind me asking me if I would REALLY marry him. He completely surprised me.

We obviously knew Final Fantasy would play a part in our wedding. Classy nerdy has always been our thing. I saw Takayas' work first through a FFXIV group on Facebook and was stunned. As our wedding drew closer, we couldn't decide what to do about our rings… nothing seemed quite right… till I remembered Takayas and KNEW he had to be the one to make our rings… his work is the epitome of nerdy classy.

We made the decision last minute… and Takayas and his team still pulled it off for us. Their communication was stellar. I have a pretty big rock on my engagement ring and knew whatever I had for a band needed to be simple-ish. And we knew we needed the white and black mages as our inspiration for our rings. And of course, Takayas pulled it off perfectly.We LOVE them. And, without ever seeing my engagement ring in person, he made the wedding band fit perfectly with it.

Our wedding day was BEAUTIFUL. Beyond beautiful… We used orchestral Final Fantasy music for our processional… I walked down to the prelude and we had the victory theme after our kiss. We came up with a signature cocktail we called a Phoenix Down and had an 8bit white mage/black mage topper made for our cake. Our day couldn't have been any more perfect and Takayas played a huge part in that. I've hinted to my husband that future anniversary gifts could bear a repeat visit. Thank you guys sooo much!"
Photograph of Ben & Cassie's White & Black Mage rings by Takayas, on their
Final-Fantasy-Wedding-Ben-Cassie-invitation-2
Final-Fantasy-Wedding-Ben-Cassie-invitation-1
Final-Fantasy-Wedding-Black-White-Mage-cake-topper
Final-Fantasy-Wedding-Ben-Cassie-signature-cocktail
Final-Fantasy-Wedding-Ben-Cassie