Guitar and Casey fell in love with Final Fantasy XIV, and with each other. So, Guitar thought a custom designed pair of FFXIV inspired wedding bands would be the perfect complement to their Summoner and Warrior love story. Even though their two custom rings are technically a wedding set, they each have so many unique details that are personal to their individual wearer, we've decided to give each ring its own blog post. Today, we're focusing on the bride's Summoner inspired ring. Be sure to check back next week to see the groom's Warrior ring, and how the two look together.
Originally, Guitar's idea was based on the Borderlands set that Takayas had created for another couple, simply replacing those symbols with their Summoner and Warrior symbols. As you can see, the designs evolved to include many more details.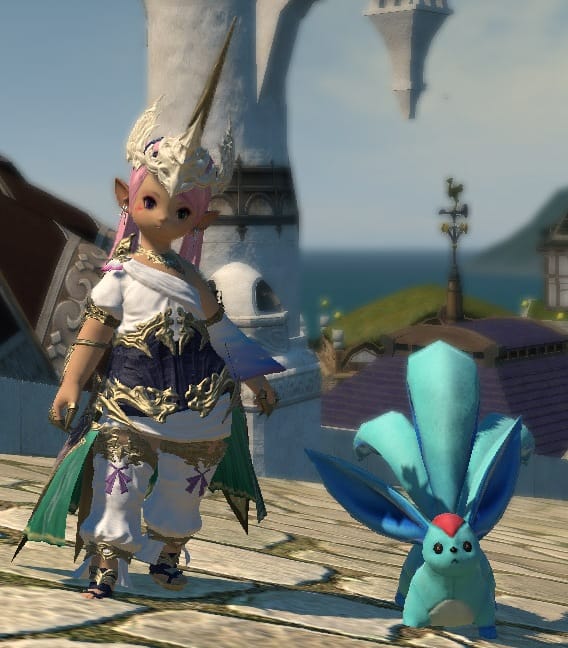 Summoner_Carbuncle_FFXIV_sample_image
Casey's Summoner ring was inspired by elements of her actual Summoner character, including a nod to her pet Carbuncle whom she absolutely adores.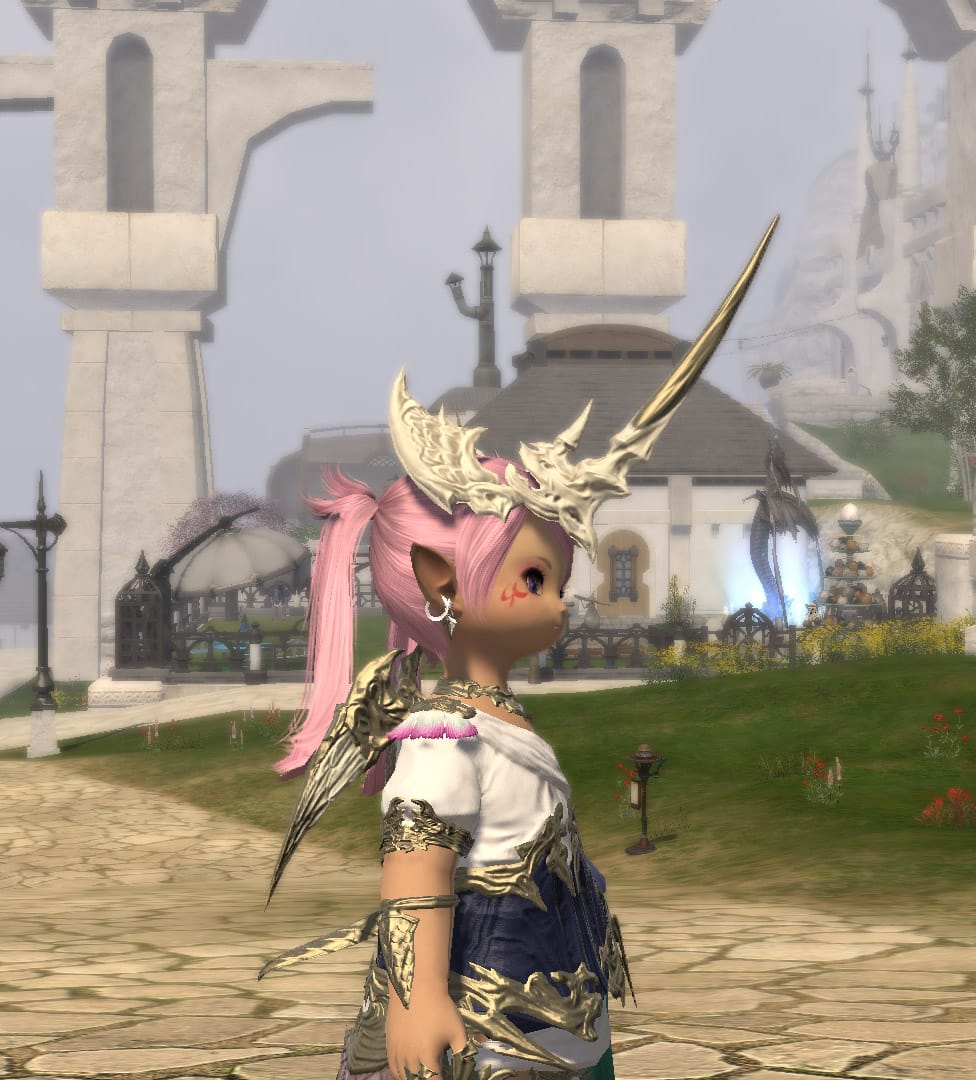 profile view of Casey's Summoner character
Takayas decided to use the pointed front of her Summoner's helmet to form the sides of the center stone setting, which is a pink topaz to match her character's hair.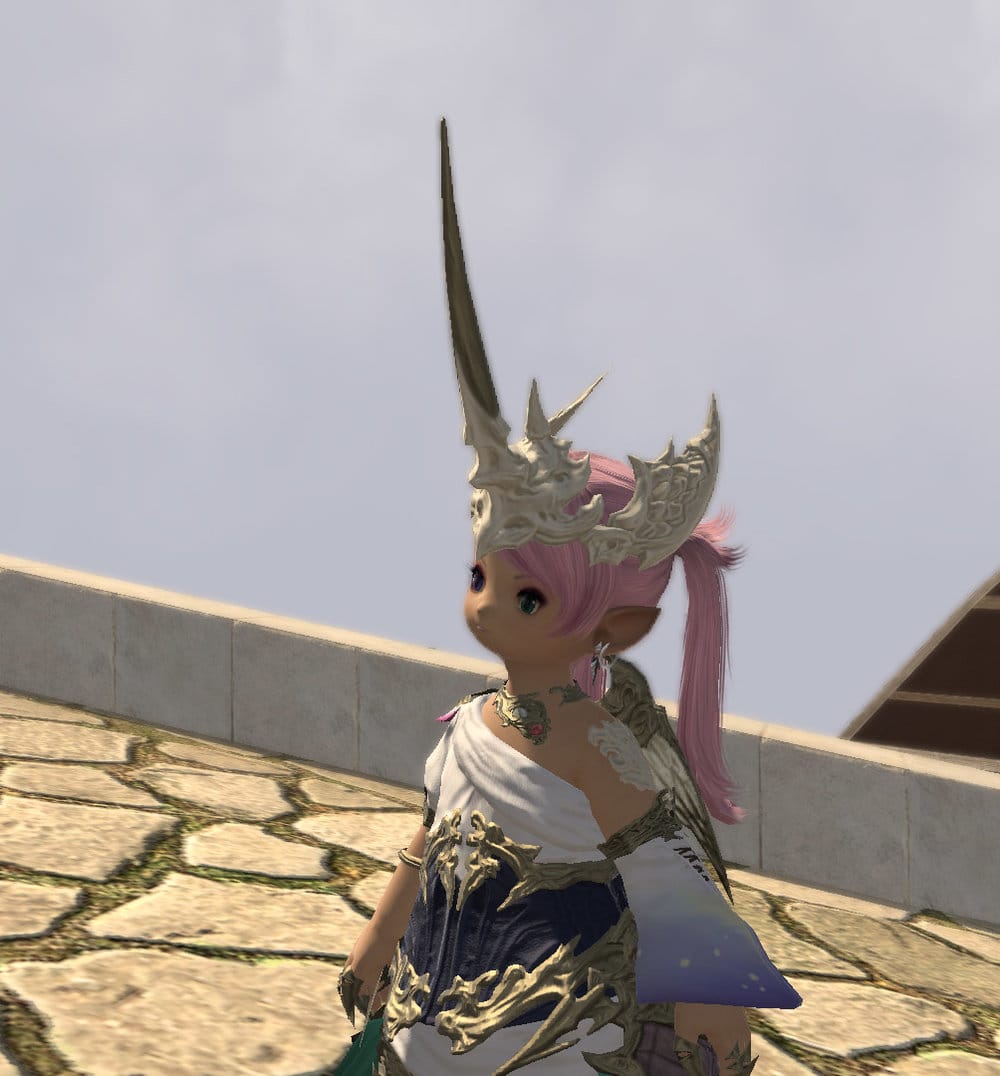 another view of Casey's character, showing more corset details
The setting pattern extends down the sides of the band to emulate the pointed horn look of the helmet, while incorporating the bone-looking pattern from her character's corset armor.
Summoner Book Weapon concept art
The North-South sides of the center stone setting are based on the crystal arm that extends from the Summoner's magical book weapon, set with blue topaz accent stones to represent her Carbuncle.
Limsa Lominsa grand company flag
The happy couple's characters are also part of the Limsa Lominsa grand company, so Guitar asked Takayas to find a way to include the ship symbol from their company's flag into both of their rings as well. Takayas didn't want this symbol to compete with each ring's main character essence, and he needed a large enough surface area to properly represent the detailed symbol, which made the gallery of each ring the ideal location for engraving the Limsa Lominsa symbol.
Takayas burnishing Casey's Summoner ring
Takayas setting the pink topaz center stone
Takayas said the most challenging part of creating this unique ring was incorporating all of the different organic pattern elements from Casey's Summoner character into one flowing, balanced design, and he is very happy with how it came out.
FFXIV_Summoner_Wedding_Ring_Takayas_front
FFXIV_Summoner_Wedding_Ring_Takayas_inside
FFXIV_Summoner_Wedding_Ring_Takayas_side
Guitar and Casey were also ecstatic about their special wedding bands. We can't wait to show you Guitar's Warrior band next week!