We love that so many of our customers have bonded over playing Final Fantasy XIV together.
FFXIV was the first MMORPG Jason and Agnesspent a lot of time playing as a couple, so when Jason was ready to propose, he wanted to do something special and create a Final Fantasy ring for her inspired by her character class.
ffxiv-thavnairian-bustier-scholar-ring-takayas
He had previously seen the Queen Nanamo ring we created, and he requested a similar intricate engagement ring style based on Agnes's Miqo'te Scholar/WhiteMage in the game. For inspiration, he sent us images of her Scholar character andKan-E-Senna to represent the White Mage Class.
The finished custom FFXIV 14K white gold and .52 ct diamond engagement ring is a hybrid of White Mage elements from Kan-E-Senna's character and the Thavnairian Bustier pattern from Agnes's Scholar character.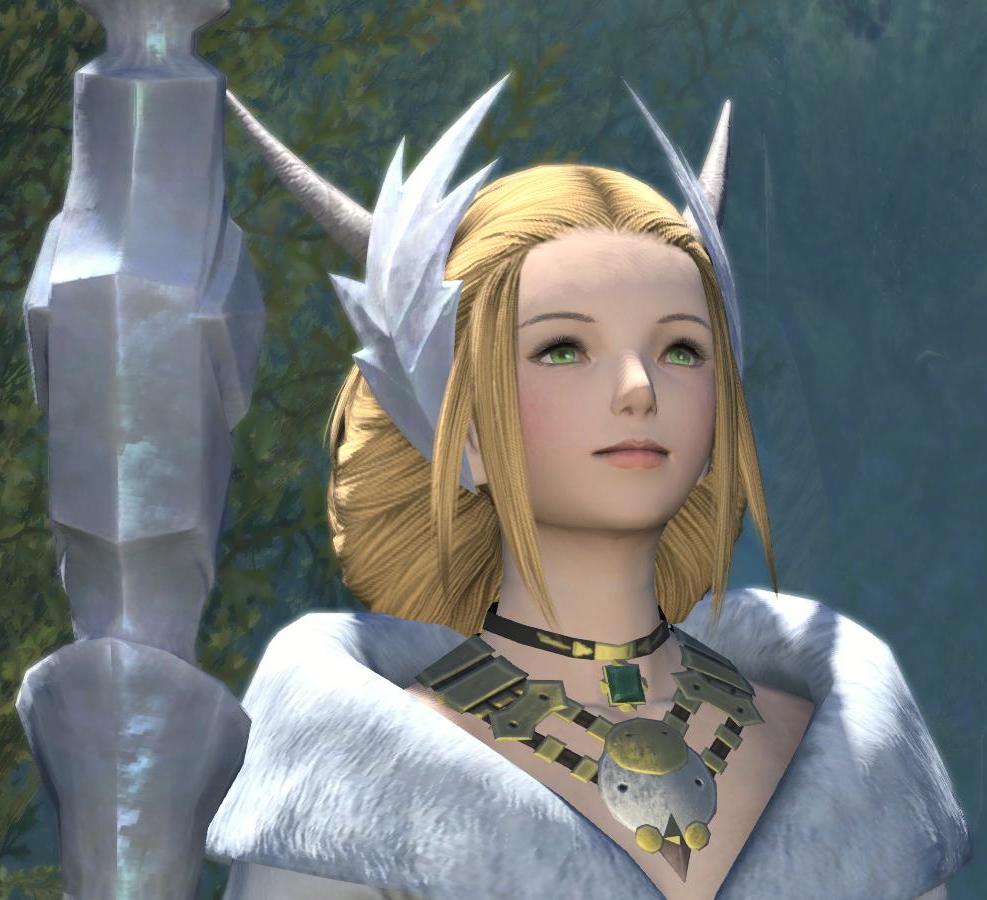 kan-e-senna-2
kan-e-senna-1
kan-e-senna-design-elements
The white sections are based on Kan-E-Senna
Final Fantasy charactersare a treasure trove of design elements when it comes to creating RPG inspired jewelry. Kan-E-Senna had several interesting patterns on her dress and jewelryto play around with in CAD, butTakayas finally settled on using the most iconic elements: her head gear and sleeves.
The diamond center stone setting is built from her leaf shaped head gear that covers her Padjal horns, and the design on the top of the band is a mirror image of the pattern on her sleeves.
agnes-scholar-character
thavnairian-bustier-design-elements
The pink sections are based on the Thavnairian Bustier armor
For Agnes's character, Takayas thought gold accents from the side and front of the Thavnairian Bustier skirt would translate nicely to the bottom section of the band.
Theirtapered, pendent shape also allowed him toslim downthe width of the band so that the ring wouldn't look too bulky.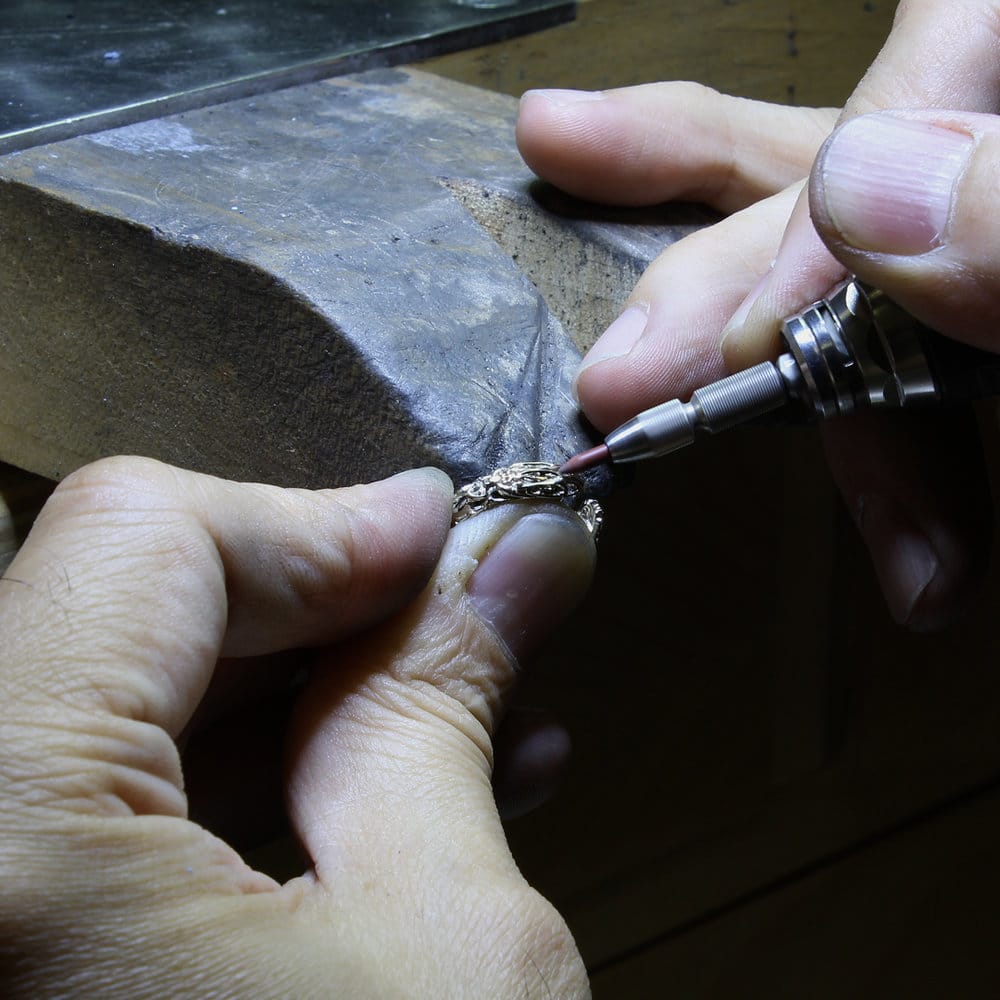 Cleaning the ring's pieces after casting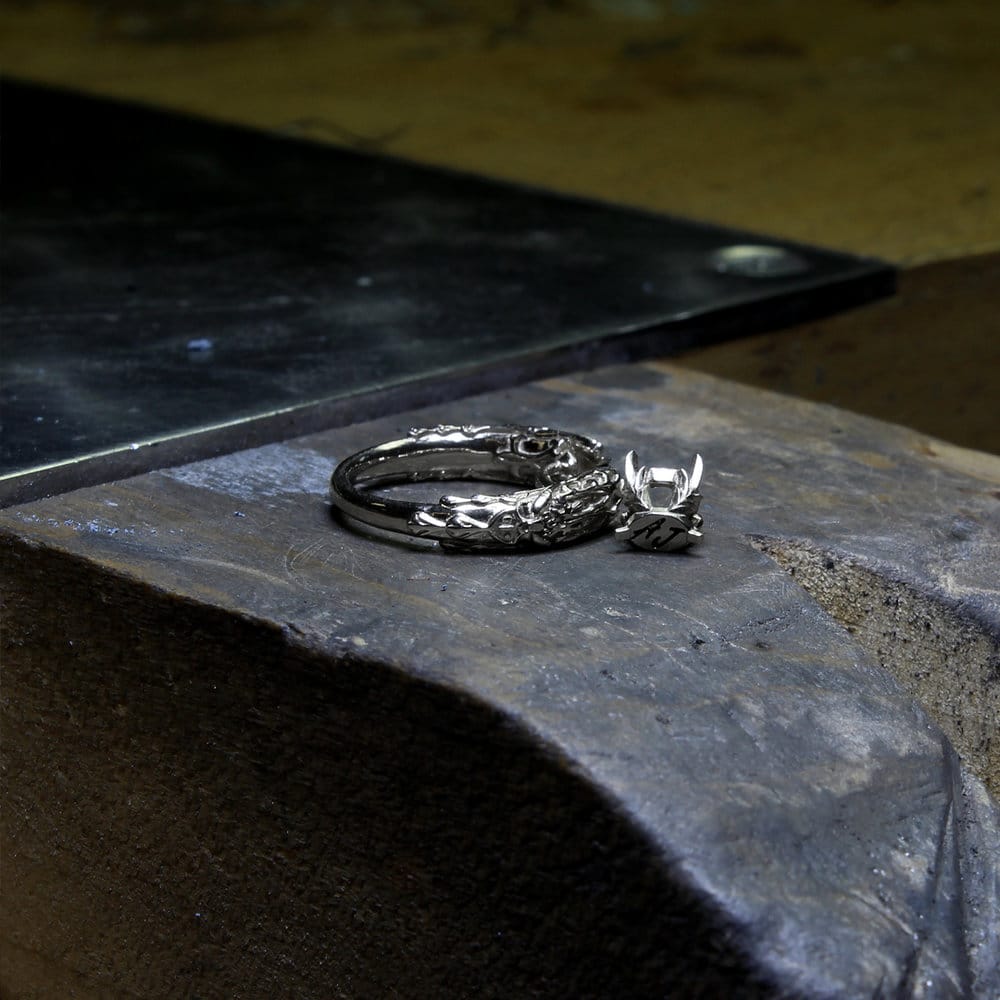 white-mage-ring-casted-pieces
setting-diamond-in-white-mage-ring
ffxiv-white-mage-scholar-engagement-ring-takayas
kan-e-senna-white-mage-ring-takayas
After Jason proposedat Tokyo Tower, we were overjoyed when they sentpictures. Thank you very much for letting us share your ring's story, and many congratulations on your engagement!
tokyo-tower-proposal