It's been a little over a year since Casie excitedly accepted Nicholas' New Years Eve proposal and slipped our custom Legend of Zelda Goddesses inspired engagement ring onto her finger.
A couple that marches to the beat of their own collective drum, they've described The Legend of Zelda as "a niche of 'nerdom' that played a huge role in our childhood years, for the both of us, and we bonded over that mutual experience." Whether it be the root of their connection or a guide post to their future, Zelda was an indispensable source of inspiration when Casie and Nicholas reached out to Takayas to create wedding bands for their upcoming nuptials.
Takayas created distinct designs for both Casie and Nicholas, who each added a dash of individuality while keeping centered in Zelda and its symbolism. (Make sure to stay tuned for next week and follow us on social media to read all about Casie's unique design!)
Nicholas' ring was heavily influenced by Ocarina of Time, fixating mainly on the Seven Sages and its Chamber of Sages within the Temple of Light. Takayas replicated the temple's sharp geometrics in shaping the depictive 14k white gold ring, manifestly creating each of the Seven Sages' medallions on its surface.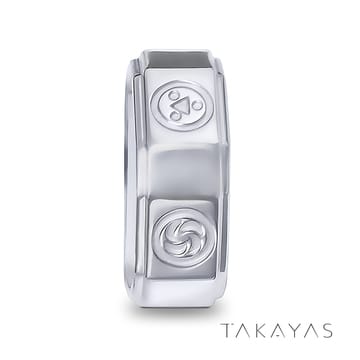 Nicholas says of Ocarina of Time as his inspiration: "This was one of the first Zelda game [I] played, and it is Casie's favorite of the games. We have played many more of the Zelda games together over the course of our relationship, and The Legend of Zelda has been a wonderful way for us to bond and connect with each other."
Now each time Nicholas gazes downwards, he'll be reminded not only of his unbreakable bond to Casie, but the seemingly predestined universe that brought them to one another.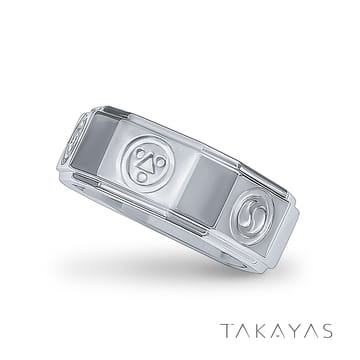 Are you ready to begin your custom journey? Visit our Options page to begin crafting, or visit our Inquire page to get in touch with Takayas.