There's a holiday-like eagerness surrounding the gaming community, building as we countdown to that all important date: September 7th. To call the release of Spider-Man on PS4 highly anticipated is an understatement, with trailers premiering as far back as Sony's E3 2016 conference and constant buzz that hasn't ceased since. With each new glimpse given, from Miles Morales' cameo-turned-major-role to Spider-Man's suit confirmations, to Insomniac's bold marketing strategy in the form of a Spidey red subway makeover at New York's Time Square stop, gamers have been given more than enough reason to (excuse our pun) board the hype train.
In celebration of the upcoming Spider-Man PS4 release, here's a round-up of all the web-slinging custom creations we've made thus far. Looking for your own to impress Gwen Stacy with? Visit our Inquire page for a free quote!
The Amazing Spider-Man Inspired Engagement Ring
Our first Spider-Man ring has a particularly special layer to the story; it was approved by Stan Lee himself! Based on The Amazing Spider-Man, Justin came to us with a vision of Spidey releasing webs from his wrists, which Takayas then evolved to evoke the sense that webs are holding up the ring's center diamond. After detailing like the web's texture, Mr. Parker's suit colors, and his iconic emblem were added, Justin then had his perfect ring to propose to Christina with at St. Louis Wizard World Comic Con. Stan Lee excitedly joined in on Justin's proposal, which happened in his autograph line! After congratulating the duo, he gave them the ultimate blessing- an autograph transcribed, "Approved by Stan Lee"!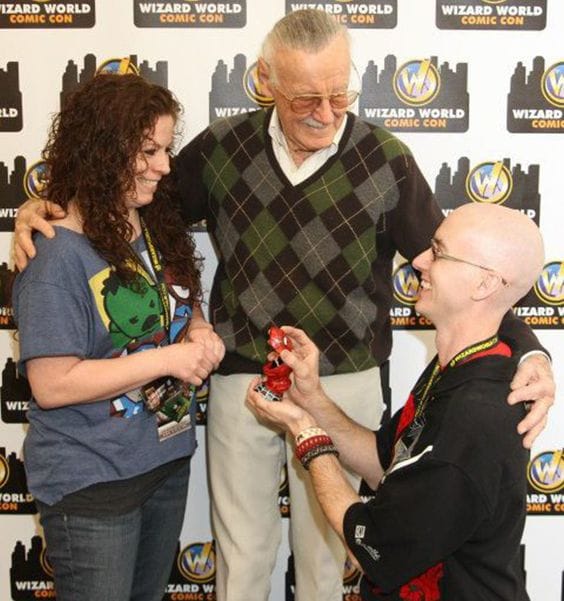 Celtic Spider-Man Inspired Engagement Ring
After spotting our first ring on the interweb, (we can't promise the puns stop here) super-fan Alexis immediately envisioned the perfect twist for his Irish bride-to-be, Margaret: Celtic knots. The interwoven patterns seen often in Irish culture represent eternity, symbolizing an unending commitment to one another. A symbol so fitting demanded to be represented in full, which Takayas happily obliged by placing the entwined pattern on either side of the ring, allowing the Spider-Man influences to sit at its center. Alexis proposed to Margaret atop Angel's Landing after hiking Zion National Park, and even went home with a new Spidey tattoo to memorialize the engagement.
Gemmy Spider-Man Inspired Engagement Ring
We don't recreate our custom rings here at Takayas Custom Jewelry, as we value each client's opportunity to create something truly one-of-a-kind for their loved one. However, we love taking inspiration from our previous designs and tailoring it to perfectly suit our client's style. This Gemmy Spider-Man Inspired Engagement Ring is the perfect example. After gazing at our The Amazing Spider-Man ring on Pinterest, Jason instantly knew what elements to add to make his version for Annmarie her dream come true. Princess-cut stones and additional gems made for a sophisticated re-imagination that spoke to Annmarie's feminine style. She shared: "It's gorgeous and looks like a pretty normal but unique ring at first glance, but the geekery is hidden in the details on the sides of the ring. It makes the ring feel that much more special knowing that we know these meaningful and geeky details are there, but anyone just glancing at it won't immediately notice it…I haven't been able to stop looking at and admiring the ring since he proposed."
Between fighting the Sinister Six and experiencing the city from MJ's viewpoint, what gameplay are you most excited for in Spider-Man PS4?! Share with us in the comments below or on Social Media.