Living her best Lolita life, Yue reached out to us for the engagement ring her loving partner Harry would propose with. As a Lolita model and influencer, Yue imagined a cute and girly design for this symbol of their most precious union. Growing up in Tokyo, Takayas often frequented Harajuku, a Mecca of lovely Lolitas, so he knew he could create a design to make Yue giggle with delight.

As the centerpiece of Yue's charming ring, a diamond worthy of a princess twinkles brightly. Six fanciful prongs embrace this magnificent gem giving it a regal appearance. The glorious diamond glistens as the crown of the ring. Adorning the shoulders of the ring, graceful bows are fastened with their long flowing ribbons cascading down the sides of the band. You can just image these bows fastened to Yue's luxurious locks bouncing as she skips with joy to embrace Harry.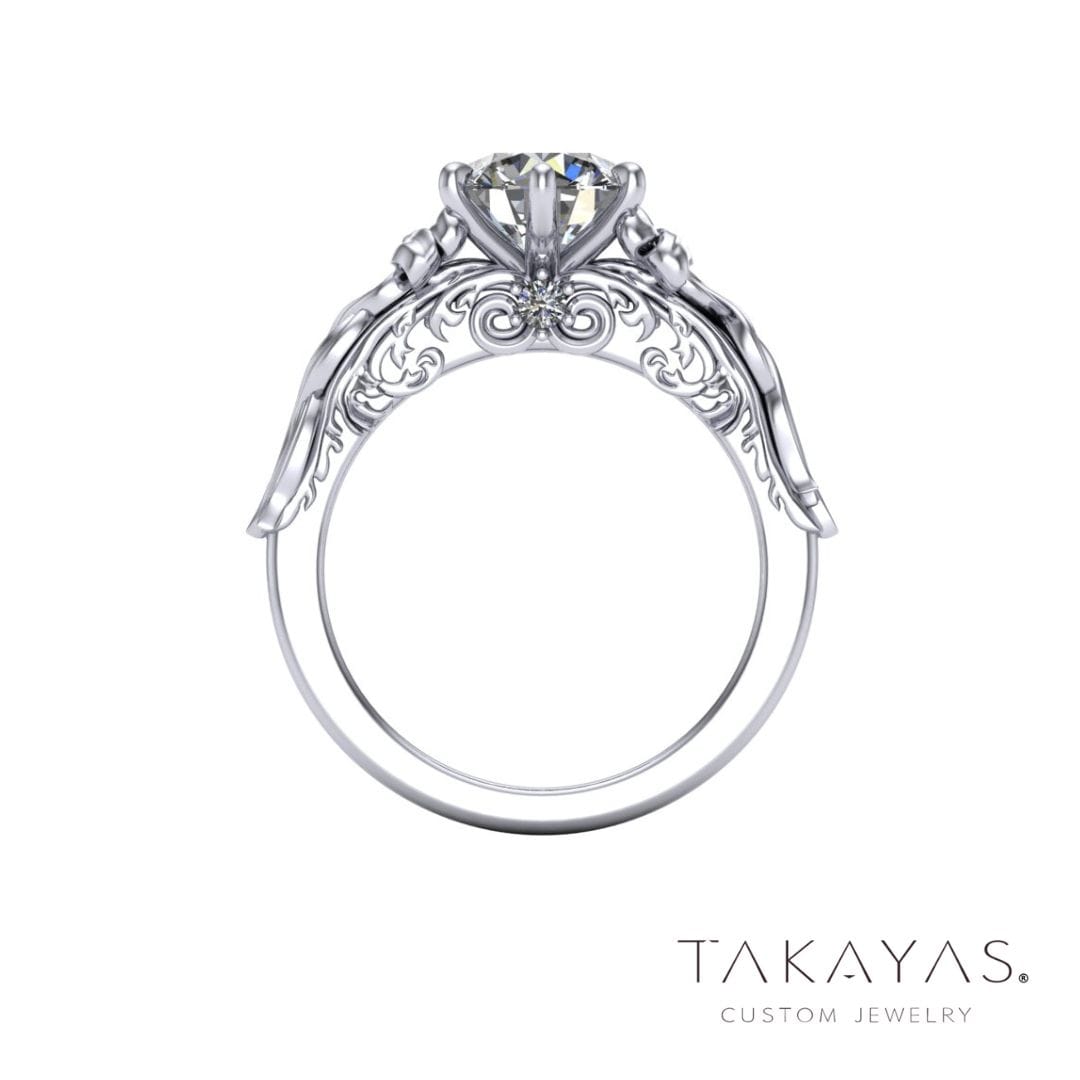 Swirling foliage filigree fills the side galleries with sinuous tendrils graciously caressing the ring's band. Two curlicues adorn the center of the side gallery with petite diamonds, once again held securely with six sumptuous prongs. While every detail was meticulously thought out to titillate the eye, all the elements work harmoniously together in an elegant, yet modest aesthetic. Adorned with pretty details, but not overly showy, it is the perfect ring for this girly girl.
Making its journey across our Northern most border, the ring arrived in the Great White North. Harry "confiscated" the ring until it was exactly the right time to propose to his beloved. Finally, on a fine day with the sun smiling above, Harry took Yue to a magnificent setting. With Yue all dolled up in her most opulent finery, he got down on one knee and presented this masterpiece to Yue, his one and only. At last, the darling couple were engaged!
Thank you, Yue and Harry, for allowing us to partake in your delightful jewelry journey together. We wish you a lifetime brimming full of love, happiness and oodles of cuteness!
Are you ready to begin your custom journey? Visit our Options page to begin crafting or visit our Inquire page to get in touch with Takayas.